Subscribe to the Badè Mailing List
Join us for an exciting schedule of events at the Bade Museum! 
Please note: As of August 2021, all events have moved to online-only venues. 
2023-2024 Lecture Series:
Women and Gender in the Phoenician Homeland and Diaspora
The Bade Museum is pleased to announce a new virtual lecture series co-hosted by Archaeological Research Facility at UC Berkeley (ARF) and East Carolina University.
All lectures will be available on the ARF Youtube channel here: http://bit.ly/arf-channel
Join us live for the first talk of the series:
October 19th, 2023
Dr. Maroun Khreich
"Phoenician Women in Textual Documentation (Epigraphical and Literary)"
See below for the full lecture series schedule.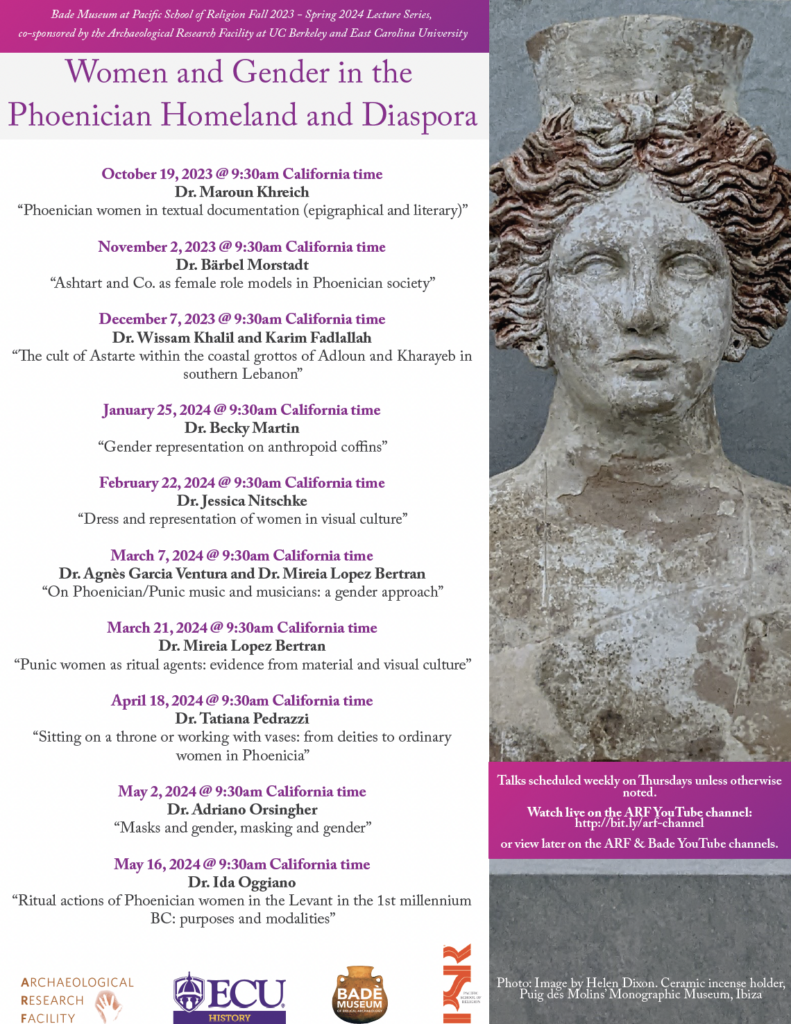 2022-2023 Lecture Series: Women and Gender Performance in the Ancient Middle East
Join us for a public program of events during the 2022-2023 academic year beginning on Thursday, September 22nd at 9:30 am PDT. 
All lectures will be available on Youtube.
Click the link below for the full lecture series schedule.
Join us for an exciting program of public events in 2021-2022 that draw on themes of the museum's new virtual exhibition: "Unsilencing the Archives: Laborers at the Tell en-Nasbeh Excavations (1926-1935)."
All events will be available on Youtube! See below for the full line-up and schedule.
November 4th at 9am: Sarah Irving- Lecturer in Modern Middle Eastern History at Staffordshire University, Guarding archaeology: everyday labour in the British Mandate Department of Antiquities

 

December 2nd at 9am: Jeffrey R. Zorn-Adjunct Associate Professor, Department of Near Eastern Studies, Cornell University; The Career of Labib Sorial (1917–35): "A rather unusual Egyptian".
January 20th at 9am: Hamdan Taha-independent researcher, former Deputy Minister for Heritage and Director of the Palestinian Department of Antiquities, Colonial Archaeology in the Mandatory Period in Palestine 

 

February 24th at 9am: Mahmoud Hawari

, 

Part-time lecturer at Bethlehem University, Palestine; former Director – General of the Palestinian Museum, Birzeit; Palestinian archaeologists and heritage professionals during the British Mandate in Palestine

 

 

March 24th at 9am: Jack Green, Jeffrey Horrell and Rodney Rose Director and Chief Curator, Miami University Art Museum.  "Archaeology, Community, and Public Health in Palestine: Insights from the Olga Tufnell Archive, 1927-1938"
April 14th at 9am: Doug Bailey, Professor of Visual Archaeology, Department of Anthropology, San Francisco State University,

 

"The problem with archives: they don't always do as they are told"
April 28th at 9am: Rachael Sparks, Associate Professor and Keeper of Collections, UCL Institute of Archaeology; Local Knowledge Networks and the Development of Archaeological Communities of Practice on British excavations in Mandate Palestine

 

May 12th at 9am: Kiersten Neumann, Curator and Research Associate, Oriental Institute of the University of Chicago; Global, Colonial, Local: Deconstructing Perspectives of Persepolis in the Oriental Institute Museum Archives
May 19th at 9am: Helen Dixon, 

Assistant Professor, History Department East Carolina University; 

"My trunk was bulging with antiques that I hadn't been able to get permits for…": Reexamining Archaeological "Souvenirs" from 1920s Excavations at Carthage

 

June 2nd at 9am: Elizabeth Minor,

 

Lecturer in Anthropology at Wellesley College

; 

Decolonizing Museum Archives: Reinterpreting the Reisner Excavations in Sudan
The first talk of the 2021-2022 lecture series streamed live on
November 4, 2021 at 9:00am Pacific
. 
Click here to watch.
Sarah Irving (Staffordshire University) presented "Guarding Archaeology: Everyday Labour in the British Mandate Department of Antiquities."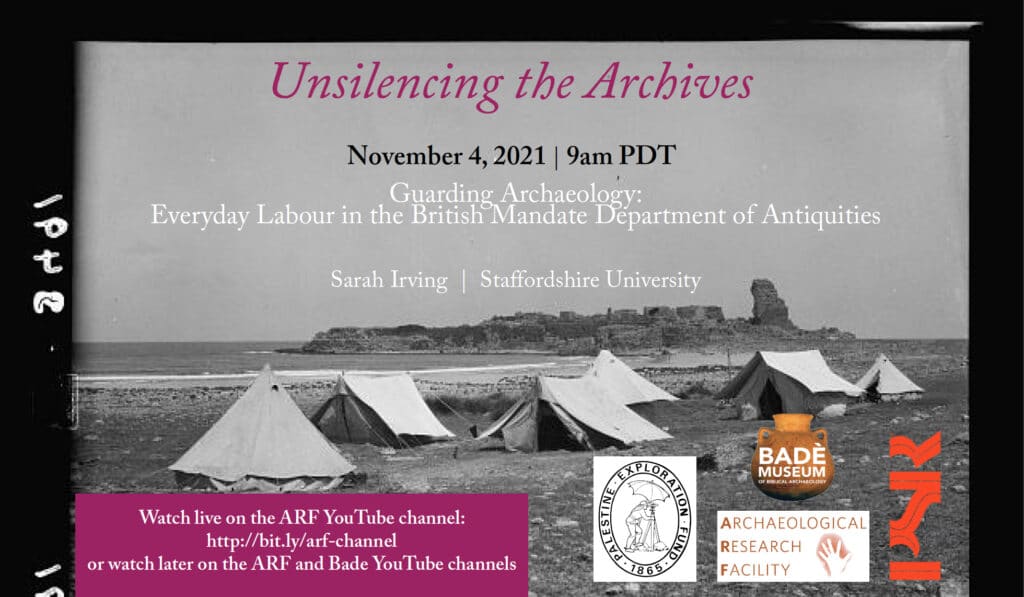 Click here to view the recorded webinar and virtual exhibition opening held on September 22, 2021.
The event featured a virtual tour by curators Melissa Cradic and Samuel Pfister and an exciting lineup of panelists including Dr. Hamed Salem (Birzeit University, Palestine), Dr. Eric Cline (George Washington University, U.S.A.), and Dr. Allison Mickel (Lehigh University, U.S.A.).
This event was co-sponsored by the Bade Museum & Palestine Exploration Fund (PEF).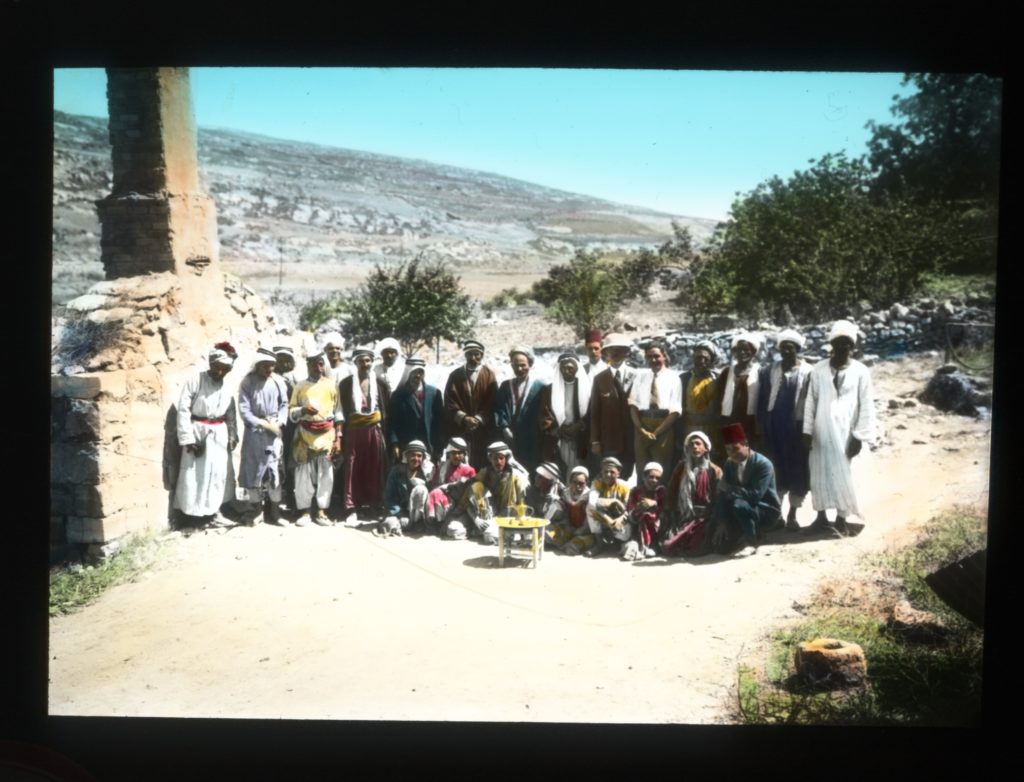 Tell en-Nasbeh staff photograph, 1926. 
New Perspectives on Ancient Nubia
In partnership with the Archaeological Research Facility (ARF) at UC Berkeley, during the 2020-2021 academic year, the Bade Museum presented a monthly lecture series titled "New Perspectives on Ancient Nubia."  
The program, which ran from October 2020 through June 2021, brought together a diverse group of scholars whose research explores various aspects of the archaeology, art, and history of ancient Nubia, the region of modern-day southern Egypt to central Sudan. . 
The entire series is viewable on Youtube here:  https://youtube.com/playlist?list=PL8FR0R2Rs1D5uQ2P6P_5xjKMFB380KWMS .