Pacific School of Religion's mission is to equip a diverse group of leaders with the vision, resilience, and skill to create a world where all can thrive. How do we evaluate whether we are succeeding in this mission? How do we assess our impact on the world? We believe the most tangible measurement is through the transformative work of our alumnx.  
Since 1995, the PSR Alumnx Council has presented its Distinguished Alumnx Awards to graduates who have provided outstanding service in their ministry or profession and shown distinguished leadership in faith communities on a local, regional, or national level. Award recipients represent a wide range of professions, including parish pastors, scholars, activists, denominational leadership, non-profit leaders, journalists, and artists.  
Our 2023 Distinguished Alumnx, Rev. Adrienne Thorne (MDiv '08), Deborah Streeter (MA '78, MDiv '82), Bridget Cooke (MDiv '90), Dr. Kit Evans-Ford (MDiv '12) and Rev. James Ishmael Ford (MDiv '91, MA '92) will be recognized at our Alumnx Gathering Conference and Distinguished Alumnx Awards Banquet on Saturday, April 22.  
Learn more about the work and ministries of these five remarkable individuals who are emblematic of PSR's mission to create a world where all can thrive!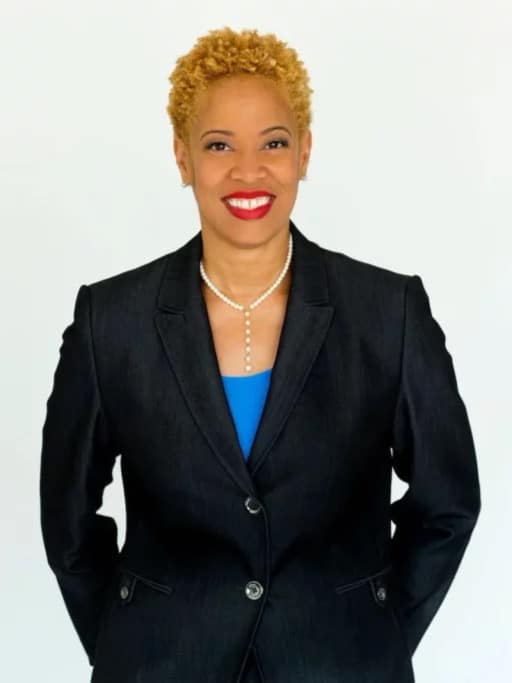 Rev. Adriene Thorne (MDiv '08) 
Reverend Adriene Thorne is the eighth senior minister of the historic Riverside Church in the City of New York and the first African American woman to hold the position. Prior to leading Riverside, Adriene served The First Presbyterian Church of Brooklyn for six years where she cofounded the award-winning Brooklyn Heights Community Fridge, and the community named her one of the Top Ten Most Impactful People. Adriene is a healer, Presbyterian minister, and classically trained dancer who uses movement to heal bodies in the church and community. She has been a dancing theologian for over twenty years and brings unparalleled creativity and movement to her work of anti-racist practice and culture building. 
"PSR shaped my theological understanding to believe there is nothing wasted in God's economy. Everything I ever did prepared me for everything that was to come. While I often do not know the outcome my life path will take, I often feel ready to face the challenges because PSR touched my life. 
PSR offered me the powerful gifts of art and theology with which to face a lost and broken world so loved by God.  Having room to connect with other bodies of culture showed me the deep need for creating healing spaces for leaders of culture if we are to answer our call to create a world where all can thrive. I am still committed today to creating those healing spaces for us. 
 I've made a difference in my local public school as a member of the PTA, in my neighborhood as co-founder of a community fridge, in my council district as a concerned neighbor and partner with civic leaders, and in my family as caregiver to my kid and parents. I lead a big church but continue to learn more about God and self in the small interactions I have feeding hungry neighbors, connecting local activists with politicians, and volunteering to bake cookies for the local shelter. "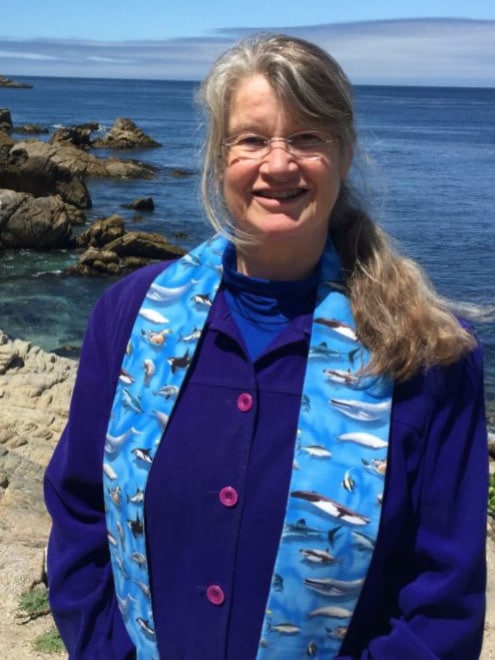 Rev. Deborah Streeter (MA '78, MDiv '82) 
Rev. Deborah Streeter has served in many different settings during her 40-year ministry, including as a local church pastor in the Northern California United Church of Christ (UCC) churches of Danville, Sonoma, San Lorenzo, Woodside, and Belmont. In 1996 Streeter created a ministry connecting faith communities and ocean conservation issues, coining the term "Blue Theology" and co-founding a growing network by that same name with PSR Alumnus Daniel Paul.  She served the wider UCC church as an Associate Conference Minister, as Editor of the UCC Conference newspaper. Streeter writes a weekly blog of ocean devotions and preaches widely on ocean and climate change issues. 
"PSR faculty and students taught me how to be bold in ministry, and how to find faith and God in all kinds of odd and surprising places. They taught me to think and reason and love and helped me find work in bioethics. I learned to write about Darwin and faith communities, leading to a long interest in science and religion. So many incredible women opened my heart and soul. I met quite a few cute guys and finally married one who worked down the street. I always felt safe, supported, and challenged at PSR. Thanks, PSR." 
Bridget Cooke (MDiv '90) 
After graduating from Western Oregon University with a degree in education, Bridget Cooke heeded a call to join the Franciscan Sisters. Soon realizing her path was leading elsewhere, she put her heart into work as a lay leader advocating for justice, peace, and the integrity of creation.  After attending PSR, she headed to Chile as a Maryknoll missioner focusing on ecofeminism and striving to live grassroots solidarity with communities on the margins.  
In the late 1990s she returned to the family farm and began building relationships with the Spanish-speaking, immigrant community in Oregon. In 2002 she co-founded and continues to lead Adelante Mujeres (Rise Up Women), a nonprofit with a mission of holistic cross-generational education, sustainable micro-enterprise development, shared leadership empowerment, and public policy advocacy for immigration reform and other just causes. 
"My approach to justice was honed during three fabulous years at PSR. The inquiring spirit of the PSR community invited me to deepen and expand on truths and principles that guide me still. I'm ever grateful for the gift of PSR – to journey with others, seeing god and envisioning wholeness in places of struggle and hope." 
Dr. Kit Evans-Ford (MDiv '12) 
Social entrepreneur, spiritual director, and autism advocate, Dr. Kit Evans-Ford is a woman who is passionate about serving others. She has been a trainer and activist for 16 years working relentlessly in the areas of nonviolence education and assisting people in healing from violence and abuse. Dr. Kit is a Teach for America and United States Peace Corps Alumni. She has studied, worked, and served in England, Japan, Nigeria, South Africa, Tanzania, Kenya, Saint Lucia, Saint Kitts and Nevis. 
Kit is a certified spiritual director and the founder of Argrow's House of Healing and Hope – a safe space where free services are offered daily for women healing from violence. Argrow's House is also a successful social enterprise where women healing from violence create beautiful bath products that provide a living wage for themselves in a safe space that celebrates who they are. Additionally, Dr. Kit is the founder of Autistic & Loved, LLC where she created food-grade silicon pendants, called chewelry, for children with autism spectrum disorder and sensory processing disorder.  
"I love Pacific School of Religion! It was here that I was provided a lens to become radically inclusive and to serve as a chaplain and now social enterprise founder with a heart of compassion for all. It was here that I learned how to take the love I was taught from the Christian women in my family and combine it with the bold and radical love taught at PSR. Today I stand boldly in ministry as a more just, more compassionate, a more inclusive Christian minister for change. I understand that with compassion and love, we can live in a world where all people can thrive.  
I pray that my impact on the world is one grounded in humility and compassion, with a firmness for justice intertwined with hope. My impact has been seen in my work with women and children survivors of violence. The older I get the more I realize that impact is measured by the love you share with people. The work of journeying in solidary with people. The work of using the resources and network we have for good in the world.  
As an alumnx, I would like to make sure that this opportunity continues to be provided for students at the highest level."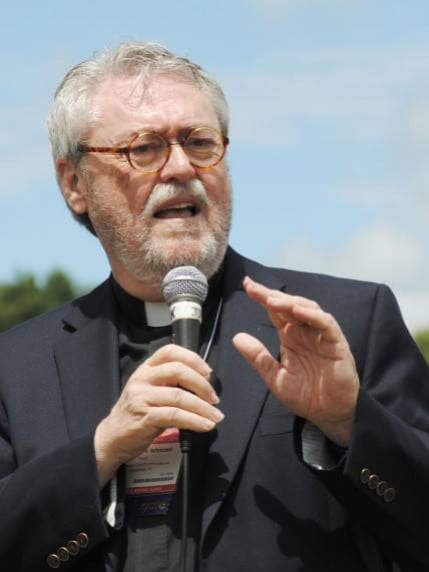 Rev. James Ishmael Ford (MDiv '91, MA '92) 
The Reverend James Ishmael Ford served as a Unitarian Universalist parish minister for a quarter of a century. A lifelong student of mystical religion, he has walked a spiritual path "between" Christianity and Buddhism for the past fifty-plus years. In these years, James has been confirmed as a teacher in two traditional Zen lineages. James is the author of five books published in the UU World, Tricycle, Buddhadharma, and Lion's Roar. A sixth, the Intimate Way, is due from Shambhala Publications, next year. His blog "Monkey Mind," now hosted by Patheos, is sixteen years old.  
"Pacific School of Religion and its teachers guided and nurtured me as I explored the range of possibilities unique to the Graduate Theological Union (GTU). GTU and PSR provided the latticework upon which I was allowed to grow. The school gave me mentors who pointed me in directions, then allowed me to explore to the depths. They were there when I faltered, and they celebrated when I succeeded. This allowed me to be a useful parish minister for a quarter of a century, as well as an effective partner within interfaith dialogue, as well as a spiritual director at the meeting place of Zen's profound traditions and Christian and Western spirituality." 
Our 2023 Distinguished Alumnx are part of a rich legacy of outstanding alumnx. You can see a list of past recipients here. PSR has over 3400 alumnx who have made an impact in their communities and in the world. They are the realization of PSR's mission and vision to create a world where all can thrive. 
Tickets to PSR's Alumnx Gathering: Dreaming Unafraid / Waking to Action, Conference, and Distinguished Alumnx Awards Banquet are available until April 5!