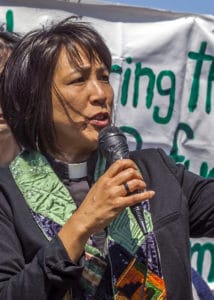 Rev. Deborah Lee, one of PSR's 2020 Distinguished Alumni award recipients, is the Executive Director of the Interfaith Movement for Human Integrity, where she has served since 2009. Below she shares how her organization is responding to the impact of COVID-19 pandemic in immigrant communities. See Rev. Lee's full Distinguished Alumni profile here.
First, I wanted to share a moving video we were able to capture and quickly produce from fathers, brothers, sons, and grandfathers held captive inside Mesa Verde Immigration Detention Facility. They share their urgent plea: COVID-19 "will turn our detention into a death sentence."
We are seeing lots of the newly arrived families and asylum seekers we had helped to integrate here to the Bay since 2015 especially hard hit by COVID-19. All low-wage workers are vulnerable right now, but the situation is far more frightening for individuals without legal status, newly arrived immigrants, and asylum seekers fighting their deportation. They lived in the shadows before COVID-19 and now feel even greater fear. Many don't know where to go for help, while others are afraid to turn to public institutions, though their lives may depend on it. The people in need include inspirational community leaders our organization has trained, who have spoken bravely about their experiences to journalists, elected officials, and the faith community. We are committed to them, their families, and their communities.
We are hearing stories of extreme human need. A newly arrived father has been laid off from the restaurant job he just acquired and doesn't know how he can support and feed his child. A house cleaner wants to know where to be tested for the virus, because her employer (whose house she cleans regularly) has tested positive for COVID-19. A worker who was using a borrowed social security number has been let go from her job because of COVID-19 and wants to know if filing for unemployment will trigger an ICE arrest. Two people have injuries and need medical assistance. Most of the vulnerable immigrants we have supported are no longer working and need immediate help to feed their children, pay the rent, and keep the lights on.
In the coming weeks, we will be adding to our resource toolkit for this population and sharing information with our immigrant leaders and the immigrant congregations in our network. We'll help them learn where they can get free food, how they can get coronavirus testing, if they can avoid eviction, and what benefits or relief they are eligible for. We will raise money for our Emergency Migrant Fund and do outreach in immigrant communities (in tandem with our census outreach) to share information about resources and our Emergency Migrant Fund. We will reach out to every family we have helped in the past five years to check on their wellbeing and provide resources and emotional support, identify faith communities willing to provide short-term housing for immigrants released from detention, and mobilize the faith community for a day of action to call for the release of immigrant detainees and vulnerable prisoners. It is more important than ever that we continue to support, train, and engage the leadership of those directly impacted by detention and support their families in advocacy efforts for release.