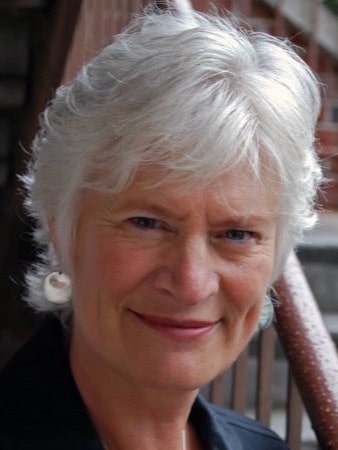 Rev. Pat de Jong was selected as one of PSR's 2020 Distinguished Alumni. She currently serves as the Chair of Church World Service (CWS), a faith-based, global humanitarian agency. Below, Pat shares about her long connection to PSR, the work CWS is doing in the face of the COVID-19 pandemic, and the power of community in this crucial time.
Our connections sustain us.
by Rev. Pat de Jong (MDiv, 1978)
I trace the roots of my desire for justice to my days at Pacific School Religion. I entered PSR as a Midwestern evangelical and arrived at a time when few denominations were ordaining women. I wanted to get a Master of Arts because I was leading a tiny improvisational theater project in Kalamazoo and I was running out of ideas. Somehow, I thought a study of religious themes might help. I had no conscious thought or desire to be ordained in a denomination or serve a church. My first class in seminary was with Nick Webber, a Jesuit priest who clowned for the Royal Lichtenstein Quarter Ring Sidewalk Circus—the world's smallest circus. Nick held degrees in theology and theater and saw the circus as a way to be humor full about the profound. I was home. I even taught classes in improvisation while in seminary; I fondly recall a class trip to Union Square—miming in San Francisco!
I discovered a vocation through the theological exploration of the arts and because of the steady support of PSR professors, administrators and friends. Connecting justice, compassion and love has guided my life. Serving in campus and pastoral ministry, I came to understand that people's lives were entwined with a longing to "do the right thing", to orchestrate justice for the sake of a community's well-being.
At present, I am the Chair of Church World Service, a faith-based, global humanitarian agency with a strong presence throughout the world. Our work centers in refugee resettlement, global hunger and poverty, climate change and disaster relief. Our home offices are in New York City and, during the pandemic, we are working remotely with our partners all over the world to ensure health and safety for the world's most vulnerable. Every day, we are delivering much needed food and supplies to refugee camps and distant communities. It's amazing to be connected to relief through the sustaining work of CWS. Our emergency response teams are at work in Jakarta, Nairobi and Chad, while also monitoring our global staff.
In this moment of intense social distancing and sheltering in our homes, it is our connections that sustain us. Zoom and Face Time connect family and friends, but also allow us to continue our work and sustain the marvelous continuity of our lives. Whether it is a refugee relief report from Chad or a visit from the pastor (a PSR alum) with a gallon of 2% milk and a package of toilet paper in her hands, we are held in a vast community of care.
I'm grateful to be connected to the Pacific School of Religion community. Many years ago, this seminary changed my life and helped me discover the vocation that continues to open the way for me today.