Season Five of the Ignite Institute's Change Happens Now Podcast: Leaders discovering their voice, their sustaining spirituality, and their purposeful change in their work!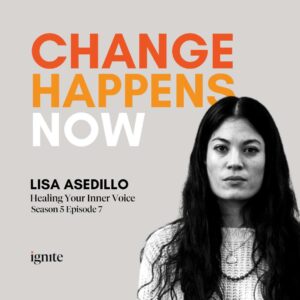 Lisa Asedillo is the co-founder of New Day Church in the Bronx, New York, a vibrant, queer, anti-racist and boundary-crossing faith community.  As an ethicist, liturgist, and the Assistant Professor of Worship and Liturgical Ethics at Pacific School of Religion, Lisa's leadership approach focuses heavily on personal introspection, community building, ritual, and creating safe spaces for marginalized people to make their voices heard when doing the work of justice. She shares how her mixed-race heritage as a Filipina American, transnational upbringing, and queer identity has shaped her leadership style to be radically inclusive of others. We hear about the trust she's rebuilt in herself and her inner voice to be confident enough to lead as her full, authentic self. This episode offers inspiration for spiritually rooted leaders who want to have a greater impact on marginalized communities!
Listen Now on Spotify or Apple Podcasts
The Ignite Institute at PSR brings together personal, communal, and spiritual work from wisdom traditions to provide established and emerging leaders with the vision, resilience, and skills to create a world where we can all thrive.