Season Five of the Ignite Institute's Change Happens Now Podcast: Leaders discovering their voice, their sustaining spirituality, and their purposeful change in their work!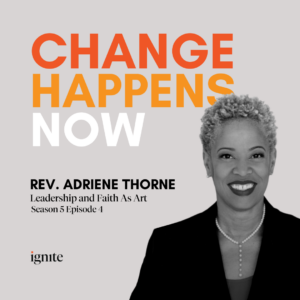 Rev. Adriene Thorne, PSR alumnx (MDiv '08) and Koinonia Award recipient, incorporates art and creativity into all aspects of her life, including her faith and her leadership as the Senior Pastor of The Riverside Church in NYC. She talks with us about the importance and value of incorporating play and a childlike spirit into our daily lives, to stay grounded amidst the chaos of the world. As she discovered and gave herself permission to incorporate art and play into her ministry, we also hear about how she discovered the Pacific School of Religion to be a place for her to explore what that could really look like. Rev. Thorne utilizes those same concepts and values in her sermons at Riverside Church, as the first Black woman to serve as Senior Minister there.
Listen Now on Spotify or Apple Podcasts
Link/Mention: My Grandmother's Hands: Racialized Trauma and the Pathway to Mending our Hearts and Bodies by Resmaa Menakem
From the PSR Newsroom: Congratulations to PSR Alumnx Rev Adriene Thorne, voted 8th Senior Minister of the Riverside Church, NYC
The Ignite Institute at PSR brings together personal, communal, and spiritual work from wisdom traditions to provide established and emerging leaders with the vision, resilience, and skills to create a world where we can all thrive.