Season Five of the Ignite Institute's Change Happens Now Podcast: Leaders discovering their voice, their sustaining spirituality, and their purposeful change in their work!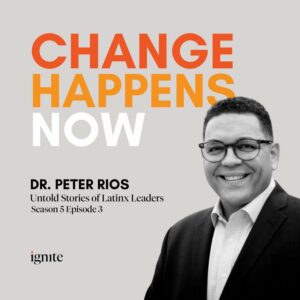 On this episode, we sat down with Dr. Peter Rios, author, leadership consultant, professor at the Pacific School of Religion, and Ignite's Academic Director, to learn what he discovered about himself that led him to shift from teaching in churches to teaching in classrooms and within organizations. He talks with us about the limited voices and representation in higher education and the corporate sector, and what it takes to bring justice and equity to these spaces. He highlights the importance of seeking out coaches or mentors from marginalized spaces, so people of color can continue to do the hard work of justice for human flourishing and organizational thriving. We learn how white supremacy doesn't just harm people of color, and the importance of us all fighting for a more just, equitable world for all.
Read Dr. Rios' book, Untold Stories: The Latinx Leadership Experience in Higher Education 
Listen Now on Spotify or Apple Podcasts
The Ignite Institute at PSR brings together personal, communal, and spiritual work from wisdom traditions to provide established and emerging leaders with the vision, resilience, and skills to create a world where we can all thrive.