The Alumnx Council of PSR meets bi-monthly. As a practice, they take turns sharing "This I believe." We'll post these inspiring testimonials as they are created.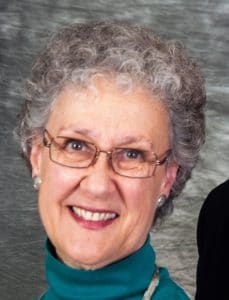 This month's post is from Carolyn Roberts (MDiv '75)
By the time I graduated high school, our family had moved ten times, and I'd been enrolled in eight different schools. Before our second move when I was four, I was taking part in our Presbyterian church's Christmas program. I'm told I recited "My Dolly and Me."  By fourth grade, I'd graduated to being Mary in the Christmas nativity program. Different town, different church. Yet even then, I'd learned that church was a community where individuals of any age could be welcomed and valued.
That experience was especially critical during the vulnerable teen years when we moved three more times. With every move, our family looked for a church that had socially-relevant preaching, a love of Bible study, a solid ChrisEd program, and a strong youth group. The churches we joined not only welcomed us into their communities but also provided leadership opportunities. To a degree. When I was a high school senior, our beloved Associate Pastor called each senior into his office. For boys who'd shown leadership potential, he suggested they consider a call to ordained ministry. He suggested I consider ChrisEd. That was not my calling, and I went into public school teaching.
In 1968. By my second year, I was looking for something that gave me a better foundation for teaching the 30% of my middle school students who were African-American. I desperately needed history, sociology, theology, literature, music, art, because I'd grown up in the Wanda-Vision deserts of white, middle-class America. And in the turmoil of the early 70's, with the peace, civil rights, women's, and growing farmworker's movements, I rapidly was learning there was a lot I didn't know.
My mother discovered a summer program offered through the Graduate Theological Union's Center for Urban Black Studies. A much bigger, more diverse world opened up to me, including a call to ordained ministry first articulated by my late husband, John Deckenback. This I believe:
At its best, church can be a community where each person is welcomed and valued.
I believe that others often play a pivotal role in helping us identify our calling.
I believe that as people of faith, we are called to take seriously the biblical foundations of our faith tradition, and to re-imagine and re-form the ways in which those stories speak to us in our time.
I believe that we grow in faith and in faithfulness when we join hands with those who break down culture's purity codes which elevate one group at the expense of another.
I believe that we are called to ministries of transformation, to ministries of healing and inclusion, grace, and generosity.
I believe that oppressive systems are inherently violent, and that especially within those systems—whether they are systems of empire or economy, race or gender— we are called to attend to those in need, and to stand with those whose voices need to be heard.
I believe that each voice is important, and that one voice alone can never tell the whole story.
I believe that change for the better is always possible.
I believe that beauty and humor and mystery can be in-breakings of the holy.
I believe that love heals.