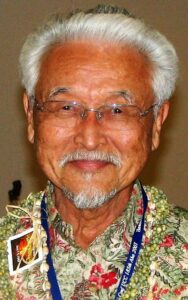 Pacific School of Religion alumnx and influential leader in the United Church of Christ, Rev. Teruo "Terry" Kawata, died July 1 at 94. 
In an acknowledgment sent to the Hawai'i Conference, which Kawata led for the 10 years preceding retirement, President David Vásquez-Levy spoke for the entire PSR community by saying: 
"We were saddened to hear the news of TeruoKawata's passing. May he rest in peace. He was such a remarkable individual, and I know his legacy lives on throughout the Hawai'i Conference. We were grateful and honored for the many ways he, as an alumnx, embodied the best of PSR's vision and commitments and contributed so richly to the development of leaders for the church across many communities with a powerful impact on the leadership, theology, and formation of Asian Pacific Islander communities." 
As a teenager, Kawata and his family were among the over one hundred thousand Japanese Americans forced into internment camps during WWII. After their release, they returned to their home in San Francisco with nothing.  
Despite, or because of this traumatic start Kawata went on to pursue an extensive and impressive education, including undergraduate degrees from the University of Chicago and Ottawa University in Kansas, along with a divinity degree from the University of Chicago in addition to a Doctor of Ministry from PSR. 
After serving in churches throughout the west in the 1950s and 1960s, Kawata began national work for the UCC starting with the Council for Lay Life and Work in 1970. That experience allowed him to become instrumental in the formation of the UCC's Pacific Islander and Asian American Ministries (PAAM). In two Conferences in the UCC, Kawata was the first person of Asian descent to hold the position of Conference minister: the Central Pacific Conference, and the Hawai'i Conference. 
After retiring Kawata remained a much sought-after speaker and a collection of his sermons, Fire in My Bones, was published in 1991. 
David Vásquez-Levy closed his comments at the Hawai'i Conference by saying, 'On behalf of Pacific School of Religion, our board of trustees, alumnx council, faculty, staff, students, please express our sympathy to the Hawai'i Conference community."