We're proud to announce that our beloved Rev. Dr. Dorsey Blake has been chosen as the recipient of the Graduate Theological Union's (GTU) Distinguished Faculty Award for 2023. Prof. Blake will give the 48th annual Distinguished Faculty Lecture titled, "Howard Thurman: Seeking, Queering, and Transcending" on Tuesday, November 7th at 5 pm PT.
The lecture will include Rev. Dr. Blake's reflections on the ways in which Dr. Howard Thurman transcended the labels often used to describe him: poet, mystic, philosopher, theologian.
"In a personal conversation with me, he called himself 'a seeker,'" the Rev. Dr. Blake said. "As a seeker, he queered normative understandings of the institutions and overall systems in which he was involved, leading to alternative ways of being and living."
Each year the GTU faculty honors a distinguished professor who embodies the scholarly standards, teaching excellence, and commitment to ecumenism that define the GTU. Nominations are made by GTU faculty and are then considered by the Council of Deans, which selects the lecturer.
Pacific School of Religion Dean Susan Abraham said, "We are deeply honored by Prof. Blake's presence among us and thrilled that colleagues in the GTU recognize Prof. Blake's scholarship, teaching, and leadership. Prof. Blake will be teaching a course entitled Visions of Tomorrow:  Howard Thurman, James Baldwin, Adrienne Maree Brown in the fall semester. Such a unique intellectual perspective on hopeful living is one of the many reasons why Prof. Blake is celebrated here at PSR, and in wider contexts."
Read more about this honor and how to join the public lecture through the GTU's newsroom.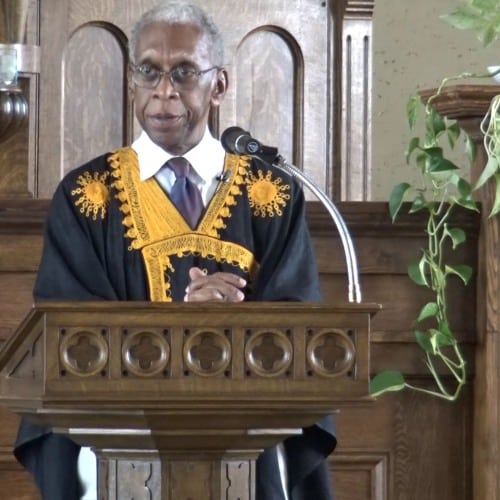 Rev. Dr. Dorsey Odell Blake, Faculty Associate, Leadership and Social Transformation, was officially installed as Presiding Minister of The Church for The Fellowship of All Peoples in October, 1994. During Dr. Blake's installation service, Mrs. Sue Bailey Thurman presented Dr. Howard Thurman's robe — which had not been worn since his death – to Dr. Blake as a symbol of her trust in his leading the congregation "so that there will be no past greater than our future."
Dr. Blake served as Dean of Faculty and Visiting Professor of Spirituality and Prophetic Justice at Starr King School for the Ministry for six years. He continued to serve on the Core Faculty until his resignation January of 2015. He currently serves as Faculty Associate, Leadership and Social Transformation at Pacific School of Religion.
Prior to joining the faculty at Starr King, Dr. Blake served as Founding Director of the Doctor of Ministry Program and later as Vice President for Community Learning at the University of Creation Spirituality. In addition to responsibilities for curriculum, student, and faculty development, he helped to initiate the Martin Luther King, Jr. celebration initially held at Taylor Memorial United Methodist Church that annually draws over 1,000 people.
Rev. Blake served as the Director of the Center for Urban-Black Studies at the Graduate Theological Union and Core Faculty Member at the GTU; Co-Director, United Campus Ministry, The Ohio University, Athens; and, Program Director of the Howard Thurman Educational Trust, San Francisco. He was also the first full-time Black male professor at The University of Alabama, Tuscaloosa, 1972-77 where he taught in the Religious Studies Department and designed a major in Black Studies.
Dr. Blake has conducted seminars and workshops locally and nationally. He is the recipient of numerous community service awards, including the first Martin Luther King Award for his work with International Students while at The Ohio University where he established the International Students Emergency Fund; The Negro Spirituals Heritage Keepers Award, Friends of Negro Spirituals, 2008; the Faculty, Staff Support Award, Afro-American Association, The University of Alabama, 1977, 1976, 1973, 1972 ( the only times the award was presented); and the Distinguished Alum Award from Pacific School of Religion, 2007. He received academic grants from the Fund for Theological Education and the Danforth Foundation.
He has extensive field ministry experience with interfaith groups addressing justice and peace issues, including the California People of Faith Against the Death Penalty, The Interfaith Alliance for Prison Reform, Genesis and The San Francisco Interfaith Council. He served as a member of the steering committee of Religious Witness with Homeless People and has been in the forefront of peace and justice activities, speaking to small audiences and rallies that have drawn over 200,000 people. In May – June, 2000, he traveled to Morocco with an interfaith delegation of Muslims, Jews, and Christians in a quest to promote interfaith respect and cooperation. In October 2010 he met His Holiness the 14th Dalai Lama and served on an interfaith panel responding to his teachings.
Currently, Dr. Blake serves as a member of the coordinating committee for the National Council of Elders.  He is also a member of the faculty for the Dale P. Andrews Freedom Seminary of the  Samuel DeWitt Proctor Institute of the Children's Defense Fund.