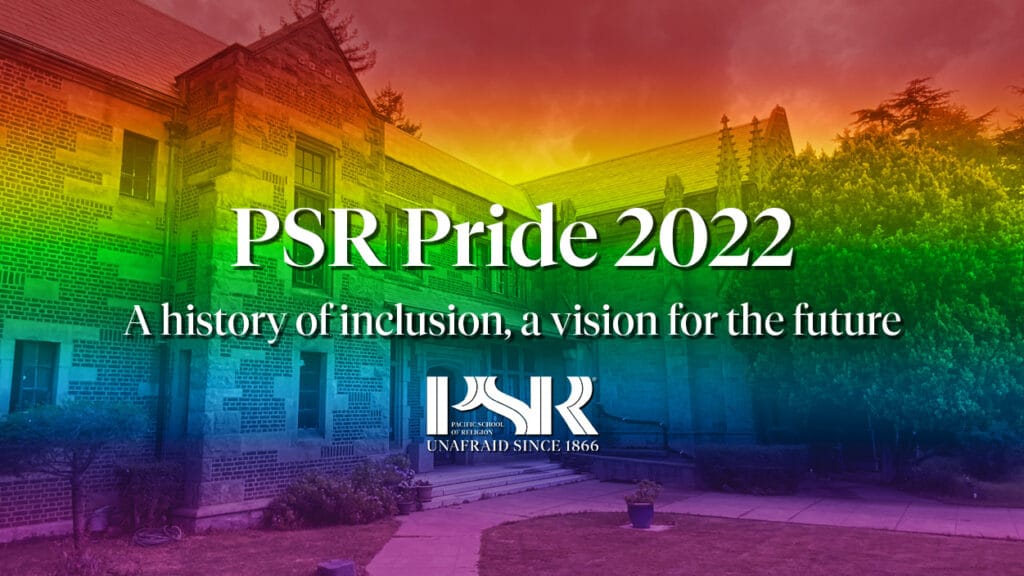 Wednesday June 22
nd
, 2022  |  
5:00pm -6:00pm
View the entire event on YouTube now!
In celebration of Pride month join us for an online panel discussion featuring Pacific School of Religion president Rev. David Vásquez-Levy in conversation with PSR alumnx Loey Powell (MDiv 77), and current MDiv student Ryan Cassata.  
While the fight for LGBTQ+ rights has made progress through policy, legislation, and public opinion over the past 50 years, the strongest and most impactful arguments against inclusion are still being made on religious terms.  
Ensuring that we strengthen and even maintain the rights we've achieved requires that we make a compelling case for radical inclusion on religious terms. 
PSR is a progressive Christian Seminary with a 155-year history of radical inclusion including many LGBTQ+ "firsts" in religious leadership. This puts us in a unique position to help connect the history of LGBTQ+ inclusion in the church to new battles on the horizon.
 "We must take seriously the fact that conservative religious voices have dominated the public discussion about religion and LGBTQ+ inclusion with devastating results in individual lives, families, and communities. We must also, however, take seriously the faith lives of LGBTQ+ and the way that their experience, scholarship, and practice have made it clear that radical inclusion is the ultimate expression of faith. Our argument for radical inclusion comes from the same spiritually rooted theology as conservatives so we're in a unique position to speak to those concerns."  — PSR President David Vásquez-Levy 

Panelists Will Discuss 
Changes in attitudes towards LGBTQ+ clergy and laity over the past 50 years

.

 

What a faith-based argument for the expansion of LGBTQ+ (and other marginalized communities) rights looks like.

 

How to create a theologically based definition of 'religious liberty' that is positive and inclusive with no license to discriminate.

 

How PSR has prepared (or is preparing) panelists for ministry/service to the community during turbulent times.

 
Panelists
The Rev. Loey (Lois) Powell graduated from PSR with a Master of Divinity in 1977 at a time when increasing numbers of women were entering seminaries and the ministry, feminist and liberation theologies were breaking new ground in the theological world, and a small but growing number of out LGBTQ + clergy were pushing the boundaries of convention. Rev. Powell was ordained by the Golden Gate Association of the UCC in 1978 in a first-ever collective ordination with PSR alums Jody Parsons and Stacy Cusulos. Over the years, she has served in non-profit ecumenical organizations, in regional, interim, and new church start ministries, and as pastor of the United Church in Tallahassee (FL). Her call to UCT in 1989 was the first time an out clergy person had been called to a sole pastorate in the UCC going through the regular channels of search and call. Loey is now retired from ministry in the United Church of Christ but remains the president of the PSR Alumnx Council. 
Ryan Cassata is an award-winning singer-songwriter, actor, performer, published writer, LGBTQ+ activist and motivational speaker. Beginning his work as an activist at age 13 after joining "The Safe Schools Team," Ryan is most proud of being a trans advocate and public speaker in and around his hometown on Long Island, New York. Ryan is deeply passionate about sharing his story and teaching students about the dangers of bullying. Ryan's mission is to provide valuable informative information to communities to inspire greater inclusivity. Ryan is the first-ever recipient of the Harvey Milk Memorial Award, has been recognized by United States Congress, and has enjoyed many televised appearances on notable news channels such as CNN, The Larry King Live Show, and The Tyra Banks Show. Ryan is currently a student in the Master of Divinity program at PSR.
David Vásquez-Levy serves as President of PSR and is a committed pastor, a nationally recognized higher education and immigration leader, and a sought after speaker, Vásquez-Levy leads at the intersection of faith, higher education, and social change. Vásquez-Levy is committed to innovation and access in theological education and leadership formation.  He serves as convener for the GTU Consortial Council, is co-founder and convener for the Latinx Presidents and Deans of ATS schools, and is a member of the executive leaders group of AshokaU campus network and the Asociación para La Educación Teológica Hispana (AETH).  He also serves on the board of Church World Service, one of the largest ecumenical development agencies in the world, and the Advisory Council for Encore.org. 
Vásquez-Levy regularly contributes a faith perspective to the national conversation on immigration, including speaking at a congressional briefing, participating in two immigration consultations with the Obama White House, and recently engaging in a series of public conversation with various State Attorneys across the country in an effort to reframe our national conversation about immigration.  He has worked on consulted on a number of documentaries on immigration, labor, and human rights and is the author of various publications that explore migration stories in sacred texts and in people's lives. 
A Timeline of PSR's Progressive Legacy
1866 –
Enfranchised Chinese Immigrants Ahead of the Exclusion Act   
1895 –
Enrolled Women During the Heart of Suffrage  
1942 –
Opposed Japanese Internment During WWII
1950 –
Appointed Georgia Harkness, the First Female Full Professor of Theology at a U.S. Protestant Seminary
1959 –
Combined Civil Rights Activism and Scholarship
1966 –
Marched for Farmworkers' Rights
1969 –
Protested the War in Vietnam
1972 –
Alumnx Bill Johnson Became First LGBTQ+ Minister Ordained by a Mainline Denomination 
1997 –
Protested Nuclear Proliferation at the United Nations
2000 –
Founded the Center for LGBTQ and Gender Studies in Religion, The First Seminary-Based LGBTQ Center
2001 –
Founded the Institute for Leadership Development and Study of Pacific and Asian North American Religion
2015 –
Protested in support of Black Lives Matter
2016 –
Standing with Standing Rock
2017 –
Protested the Militarization of the Police
2020 –
Reaffirmed Our Commitment to End Racism
2021 –
Renewed our Commitment to Educating an Emerging Generation of Students of Color
Founded in 1866, Pacific School of Religion (PSR) is a progressive Christian seminary and graduate school committed to a radically inclusive Gospel. While the dominant culture defines itself by who belongs and who doesn't, PSR is committed to welcoming people for who they are – as they are.  
PSR offers multiple, flexible options for anyone looking to build spiritually grounded leadership skills; or learn from wisdom-based traditions. In addition to PSR's Master of Divinity (MDiv), Master of Theological Studies (MTS) and Doctor of Ministry (DMin) programs we also offer Graduate Certificates including Sexuality and Religion and Spirituality and Social Change. Courses can also be completed through the Ignite Institute and our Theological Education for Leadership programs.  PSR is also home to the Center for LGBTQ and Gender Studies in Religion (CLGS), the first seminary-based LGBTQ+ Center. 
PSR is accredited by both Western Association of Schools and Colleges (WASC) and Association of Theological Schools (ATS)