Subscribe to the Badè Mailing List
Fall 2019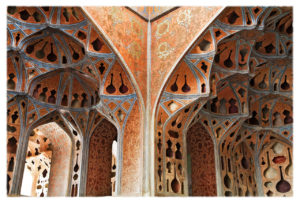 Exhibit open to the public September 4 – December 6, 2019
Exhibition Opening Reception:

 
September 27, 2019 at 5:30 – 7:00 PM
Does the focus on geometry in Islamic art mean anything? Or is it just an ornamental convention?
The photographs of Saïd Nuseibeh suggests the former and, in this exhibit at the Badè Museum, he illustrates his thoughts with a selection of recent images from Isfahan, Iran. Featuring largely Safavid mosques and palaces (from the 16-18th centuries C.E.), Saïd has created intricate peaceful compositions that are simultaneously calm but vigorous in their animated designs. Tethering these two polar qualities, each photograph offers a rich opportunity for meditation and reflection. As the subjects span centuries and differ widely in their materials, the exhibit offers a unique perspective on the character and intention of Islamic art in Iran. The Badè Museum invites you to savor this experience with us. Spring 2019
Extraordinary Callings: Holy & Queer Resistance in the Lutheran Church
Exhibit open to the public March 25 – July 22, 2019
Opening celebration in the Badè Museum gallery on March 14th at 5:30 PM. Hosted by Extraordinary Lutheran Ministries (ELM) and the Center for LGBTQ and Gender Studies in Religion (CLGS) at the Pacific School of Religion.
Extraordinary Callings revolves around stories of individuals whose seminary training and ordained ministries in the Lutheran tradition have been supported by Extraordinary Lutheran Ministries  and its predecessor organizations from the 1980s to today. Founded in 2007, ELM "affirms and supports LGBTQIA+ Lutheran rostered leaders and those preparing for rostered leadership while engaging allied congregations and ministries to proclaim God's love and seek justice for all."  This story begins in the early 1990s when two San Francisco congregations extended calls to openly gay and lesbian pastors, in violation of church policy.  This story continues in the ministries of many others who have realized their calls through the support of ELM. Fall 2018
To Everything There Is A Season
Ketubot, Illuminated Manuscripts, and Paintings by Naomi Teplow
September 17th – December 17th, 2018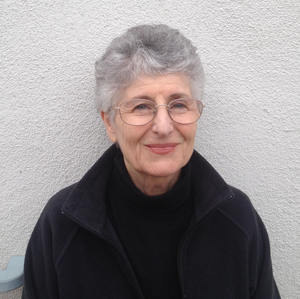 Israeli-born, Oakland-based artist Naomi Teplow has been creating ketubah art (Jewish marriage contracts) and illuminated manuscripts since 1983. She came to the US with her American husband and two daughters in 1979. Since then, her work has been featured at the San Francisco Jewish Library, the Judah Magnes Museum, the Platt Gallery at the University of Judaism, and the Jewish Museum, San Francisco.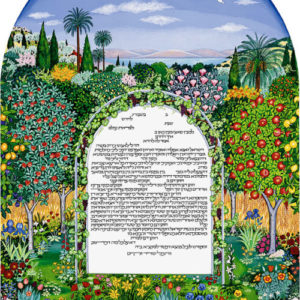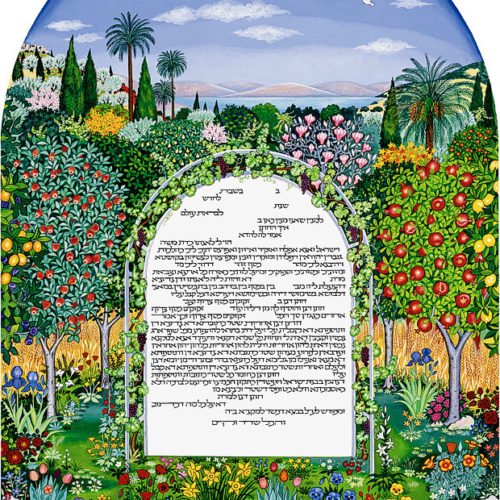 Teplow's works celebrate romance, home, heritage, and connection to the land of Israel by using vivid colors and intricate designs. Landscapes, architecture, decorative patterns, and the flora and fauna of Israel illuminate the text and express Teplow's admiration for nature, art, peace and tolerance, Jewish tradition, and the beauty of her homeland. In this exhibition, Teplow's pieces are organized thematically, based around the flow of time throughout a season, year, and lifetime.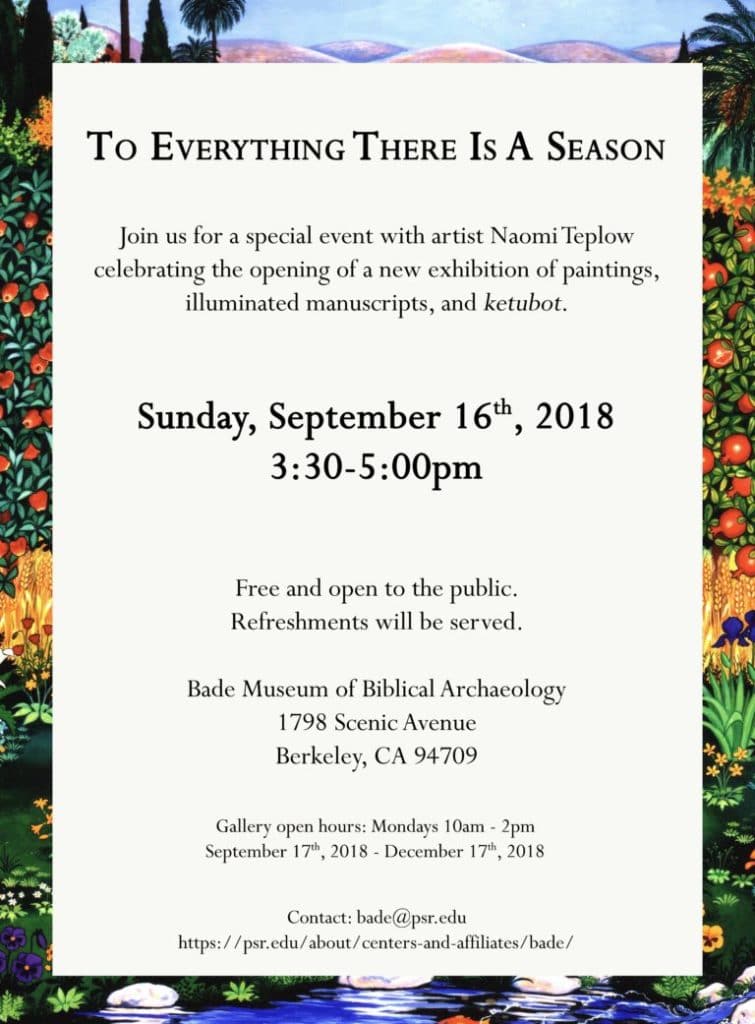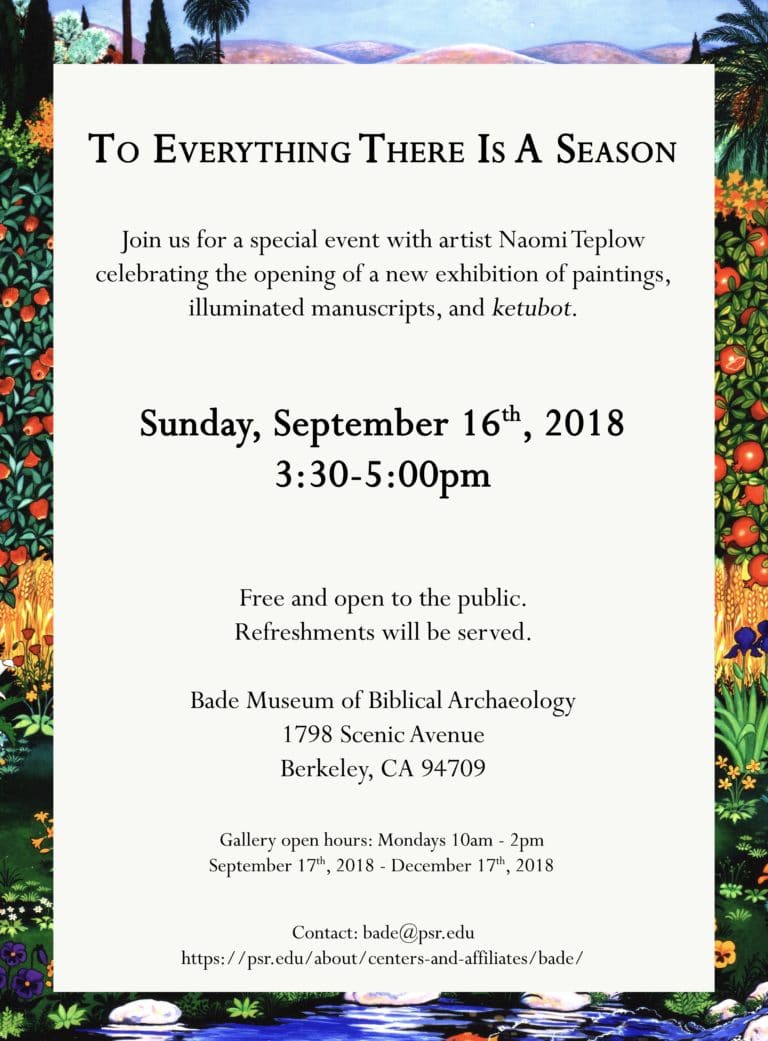 Spring 2018
Journeys of Faith: Portraits of LGBTQ Mormons
March 2-May 28, 2018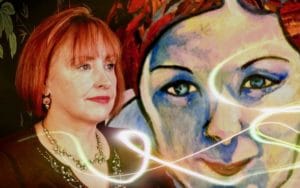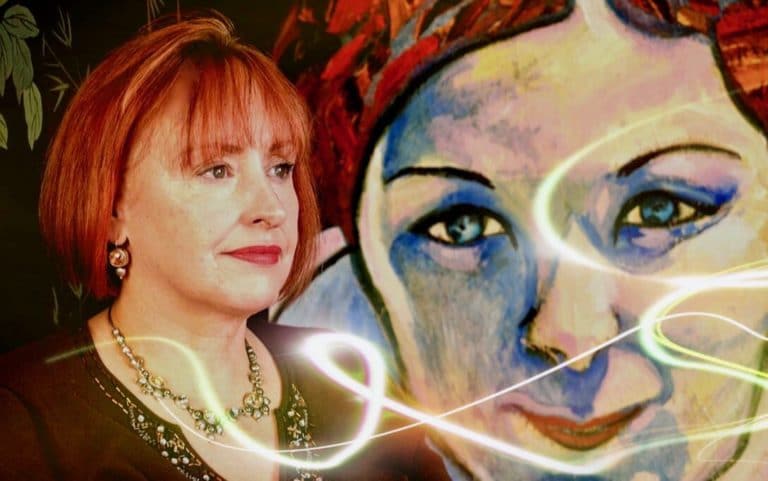 Melinda Hannah is a portrait artist in Seattle, Washington seeking to reveal the innate beauty and dignity within each of us through art. Growing up Mormon, Melinda was quite familiar with the Church's position on LGBTQ people. Her series, "Journeys of Faith: Portraits of LGBTQ Mormons", sheds light on the different aspects of humanity, examining intersections of sexuality and faith through sharing stories of perseverance, love, and community. By attaching collectively-shared, human stories to a heart and a face, she is able to portray LGBTQ Mormons not as separate from God, but as individuals who are closer to Him than many might think—and from whom lessons of compassion, inclusion, and Christlike love can be learned. Her portraits of LGBTQ Mormons create a living documentation of dignity, beauty, and unity undivided by prejudice.
Crossing Borders 1935
October 2016-February 2018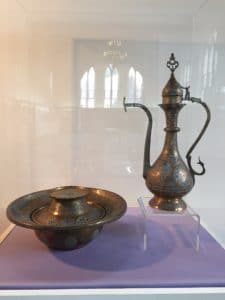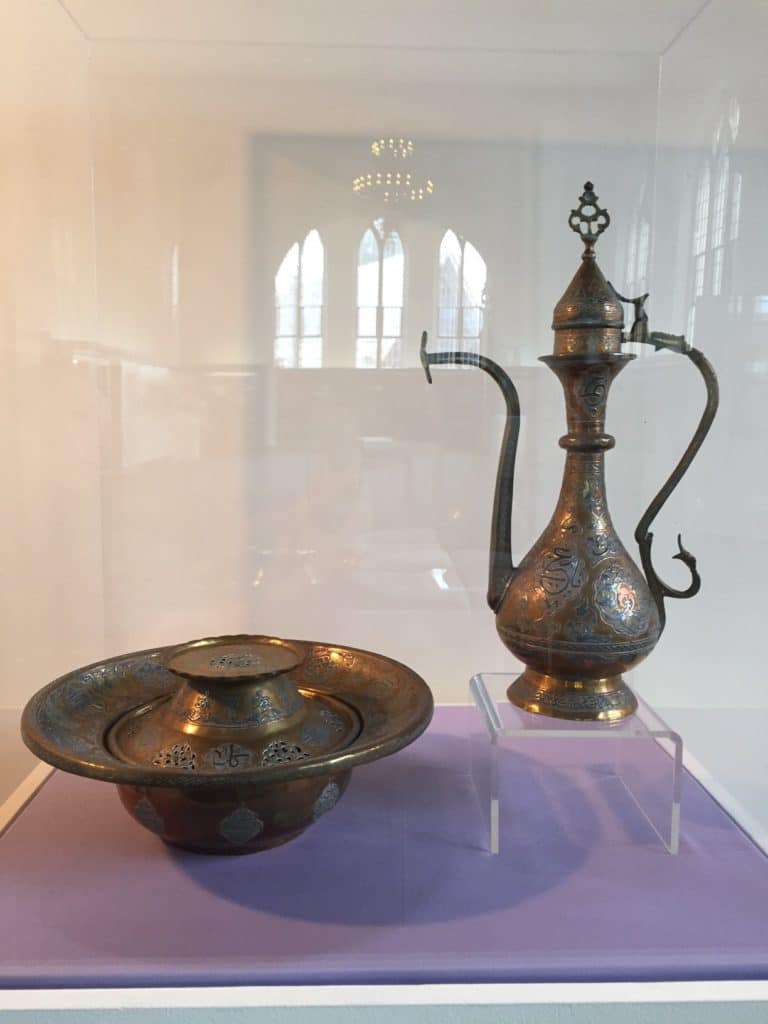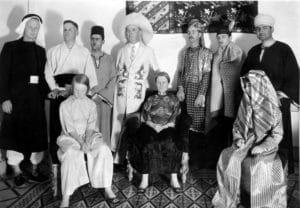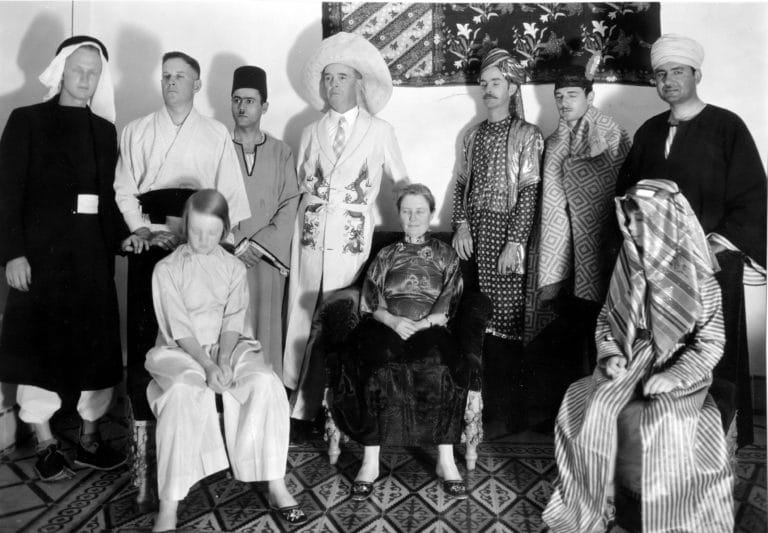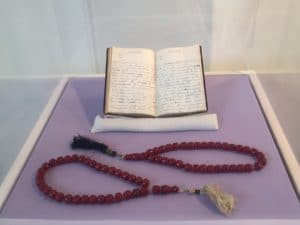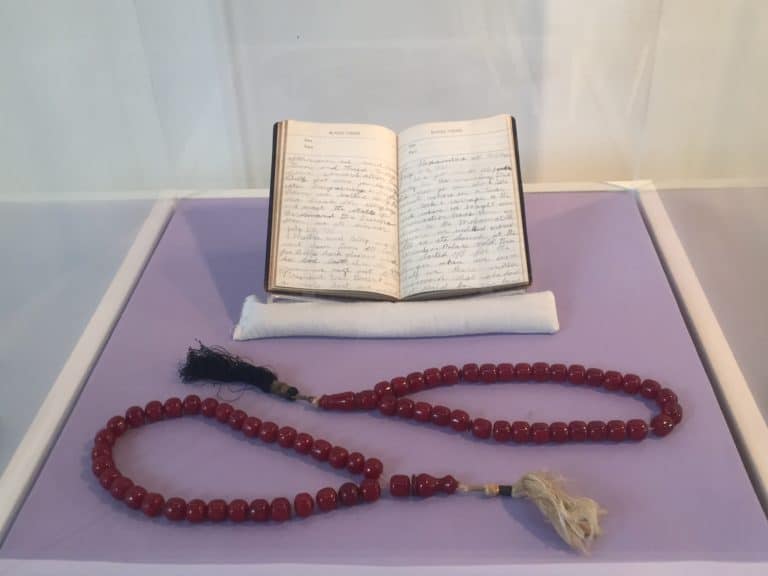 Dr. William F. Badè, PSR Professor of Old Testament Literature and Semitic Languages, and his family left the San Francisco Bay Area in late December 1934 on a nine-month voyage around the world. The family spent four months in Palestine, then under the British Mandate, completing the work of the final season of excavation at Tell en-Nasbeh. Their remaining time abroad consisted of giving lectures at various institutions, visiting foreign cities, museums, and archaeological sites, and meeting PSR alumni. Given the challenges of international travel in the 1930's, this journey was truly a special experience for the Badè family and afforded them the opportunity to cross numerous national, ideological, and cultural borders along the way. They arrived back in the Bay Area in late September 1935, having circumnavigated the globe.
The world that Dr. Badè and his family explored was on the verge of massive transformations manifested through the events leading up to, and through, World War II. The objects and photographs in Crossing Borders 1935 give us a glimpse into that world and hint at PSR's global reach even eight decades ago.
Other Past Exhibits
A Grave Gathering: Iron Age Israelite Mortuary Practices
From Death to Life in Ancient Bahrain
Metallurgy in the Ancient Levant
Finding Women of Valor: The Daily Lives of Women in Ancient Israel
Full House: Family Dynamics and Domestic Space at Tell en-Nasbeh
From Seeds to Celebration: Feasting in Ancient Israel
From Dirt to Display: The "Life" of an Artifact
Archaeology Then and Now: A Look at "Dig Life" Over Time
"Global" Economies of the Biblical World
Food and Drink
Tell en-Nasbeh: The Original Sustainable Community
Hope and Reflection: Images of Kurdish Culture from Turkey and Iraq
Fallen Through the Cracks: Microarchaeology and Ancient Households in Turkey
Mining the Collection 2013: No Stone Left Unturned