Subscribe to the Badè Mailing List
New and Upcoming Exhibits
New Perspectives on Ancient Nubia
The Badè Museum is pleased to announce the launch of a new open-access web exhibition, "New Perspectives on Ancient Nubia."
Developed collaboratively with scholars in conjunction with our 2020-2021 online lecture series with the same name, this online exhibition presents decolonizing case studies of both modern and ancient Nubia. It aims to highlight the diversity and complexity of this Nile Valley civilization.
Targeted for public audiences, the exhibition provides a new set of resources on ancient cultures of Africa for educators teaching about the ancient world.
Special thanks to Dr. Solange Ashby, Dr. Carl Walsh, Dr. Aaron de Souza, Sandro Capo Chichi, and Osama & Marta of the Nubian Lotus Guesthouse for their contributions!
Click here or follow the link below to access the digital exhibition.
Click here to view the free, open-access web exhibit.
Join us for an exciting program of public events celebrating the opening of a new virtual exhibition: "Unsilencing the Archives: The  Laborers of the Tell en-Nasbeh Excavations (1926-1935)."
All events will be available on Youtube!
 The first talk of the 2021-2022 lecture series will stream live on November 4, 2021 at 9:00am Pacific and will run monthly through June 2022 (see schedule here). Click here to watch.
Sarah Irving (Staffordshire University) will present "Guarding Archaeology: Everyday Labour in the British Mandate Department of Antiquities."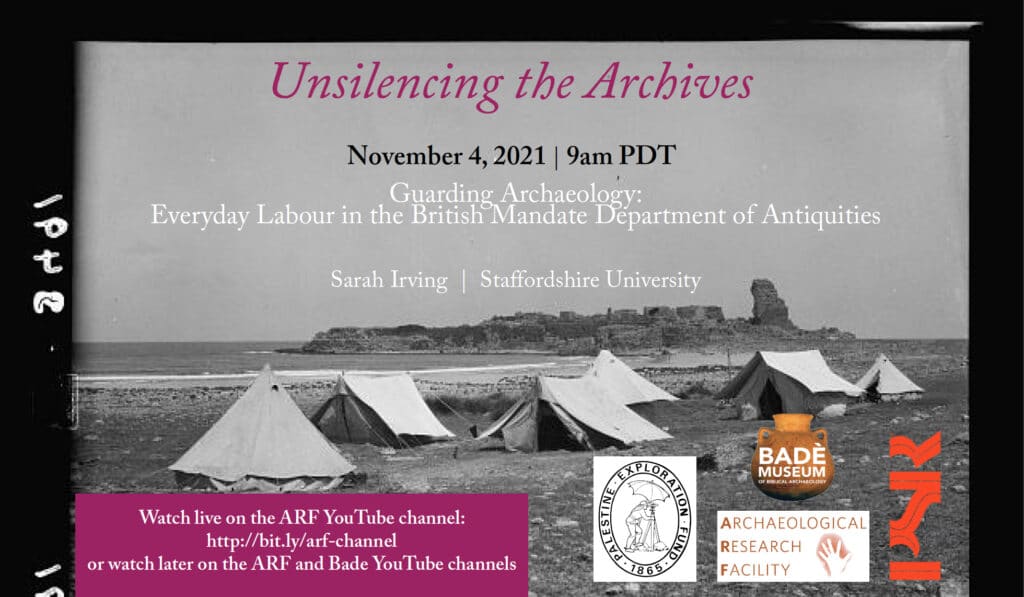 Virtual exhibit opening and roundtable (Sept. 22, 2021) is available to watch on Youtube.
Click here to watch.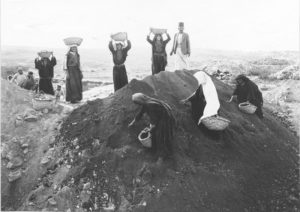 The event featured an exciting lineup of panelists including Dr. Hamed Salem (Birzeit University, Palestine), Dr. Eric Cline (George Washington University, U.S.A.), and Dr. Allison Mickel (Lehigh University, U.S.A.). This event was co-sponsored by the Bade Museum & Palestine Exploration Fund (PEF).
The webinar will be followed by a monthly lecture series running from Novemebr 2021-June 2022; watch this page for updates!
Daily Life in an Ancient Judean Town
What was daily life like in the ancient world? How was it similar and different from life today? These are the questions addressed in the latest exhibit from the Badè Museum of Biblical Archaeology at the Pacific School of Religion. The virtual exhibition, titled Daily Life in an Ancient Judean Town, features a selection of objects from the museum's archaeological collection, offering viewers a glimpse into the lifestyles and culture of those living in the land of Israel in the first millennium BCE.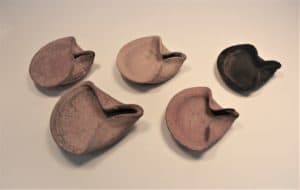 Check out the exhibit here, and follow the Badè Museum on youtube, facebook, or instagram for more content.
Isfahani Architecture: Modeling Beauty in Diversity
Exhibit open to the public September 4 – December 6, 2019
Exhibition Opening Reception: September 27, 2019 at 5:30 – 7:00 PM
Does the focus on geometry in Islamic art mean anything? Or is it just an ornamental convention?
The photographs of Saïd Nuseibeh suggests the former and, in this exhibit at the Badè Museum, he illustrates his thoughts with a selection of recent images from Isfahan, Iran. Featuring largely Safavid mosques and palaces (from the 16-18th centuries C.E.), Saïd has created intricate peaceful compositions that are simultaneously calm but vigorous in their animated designs. Tethering these two polar qualities, each photograph offers a rich opportunity for meditation and reflection. As the subjects span centuries and differ widely in their materials, the exhibit offers a unique perspective on the character and intention of Islamic art in Iran. The Badè Museum invites you to savor this experience with us. Hospitality in the Ancient Near East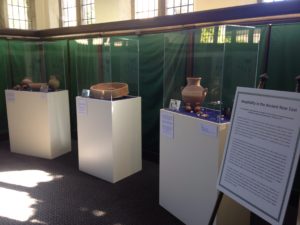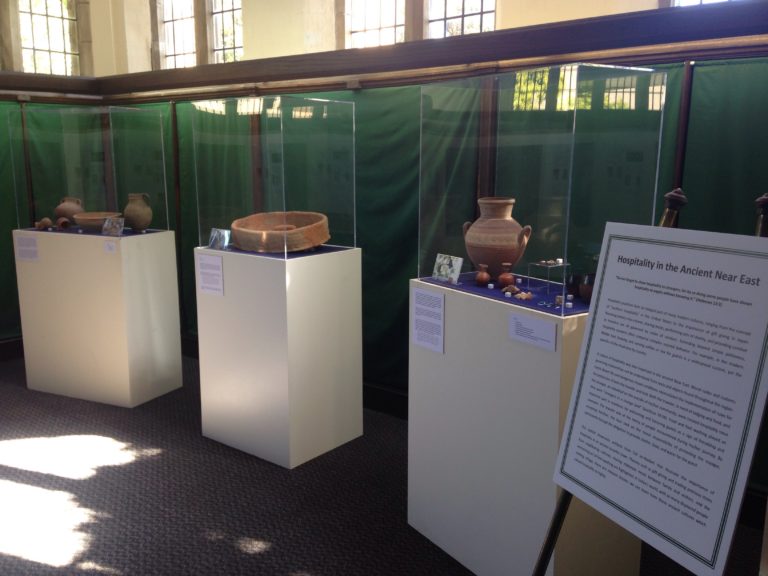 Hospitality in the Near East showcases artifacts from Tell en-Nasbeh that illustrate the importance of hospitality in an ancient Israelite town. Themes such as gift giving and trading precious items from neighboring cultures, sharing elaborate meals between family and visitors, and the welcoming act of foot-washing are highlighted. In today's world, with so many displaced people seeking refuge, there are relevant lessons we can learn from these ancient cultures which valued hospitality so highly.